News
2016.08 : The Vs30 and Z1.0 information is shown in Station List.
Vs30: Average S-wave velocity of the top 30 meters. (Unit is usually in m/s)
Z1.0: Depth to the S-wave velocity horizons of equal and larger than 1.0 km/s. (Unit is usually in m)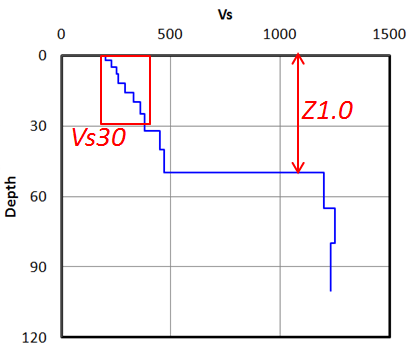 Reference¡G
Vs30
Kuo, C. H., K. L. Wen, H. H. Hsieh, C. M. Lin, T. M. Chang, and K. W. Kuo (2012). Site Classification and Vs30 estimation of free-field TSMIP stations using the logging data of EGDT, Engineering Geology , 129-130 , 68-75. DOI: 10.1016/j.enggeo.2012.01.013
Kuo, C. H., C. M. Lin, K. L. Wen, and H. H. Hsieh (2016). An Important Update for the Engineering Geological Database for TSMIP , Short Report of NCREE .
Z1.0
Lin C. M., T. M. Chang, K. L. Wen, Y. C. Huang, H. J. Chiang, and C. H. Kuo (2009). Shallow S-wave Velocity Structures in the Western Coastal Plain of Taiwan, Terr. Atmos. Ocean Sci. , 20, 2, 299-308. doi: 10.3319/TAO.2007.12.10.01(T)
Lin, C. M., K. L. Wen, C. H. Kuo, and C. Y. Lin (2014). S-Wave Velcity Model of Taipei Basin, The 5th Asia Conference on Earthquake Engineering (5ACEE) , Taipei, Taiwan, Oct. 16-18.
Lin, C. M., K. L. Wen, C. Y. Lin, and C. H. Kuo (2016). Receiver Function Analysis of Strong-motion Stations in Kaohsiung-Pingtung Area, Taiwan, EGU General Assembly 2016, Vienna, Austria, Apr. 17-22. (Abstract)
Kuo, C. H., C. T. Chen, C. M. Lin, K. L. Wen, J. Y. Huang, and S. C. Chang (2016). S-Wave Velocity Structure and Site Effect Parameters Derived by Microtremor Arrays in the Western Plain of Taiwan, Journal of Asian Earth Sciences , 128 , 27-41. doi:10.1016/j.jseaes.2016.07.012
--------------------------------------------------------------------------------------------------------------------------
The related studies in Chinese ( NCREE-11-022 ) and English (Kuo et al. 2012) of the database were published, which includes the introduction of the drilling project as well as our research using the data. The Vs30 values and site classifications of 447 free field TSMIP stations was involved, as sketched in Fig. 1.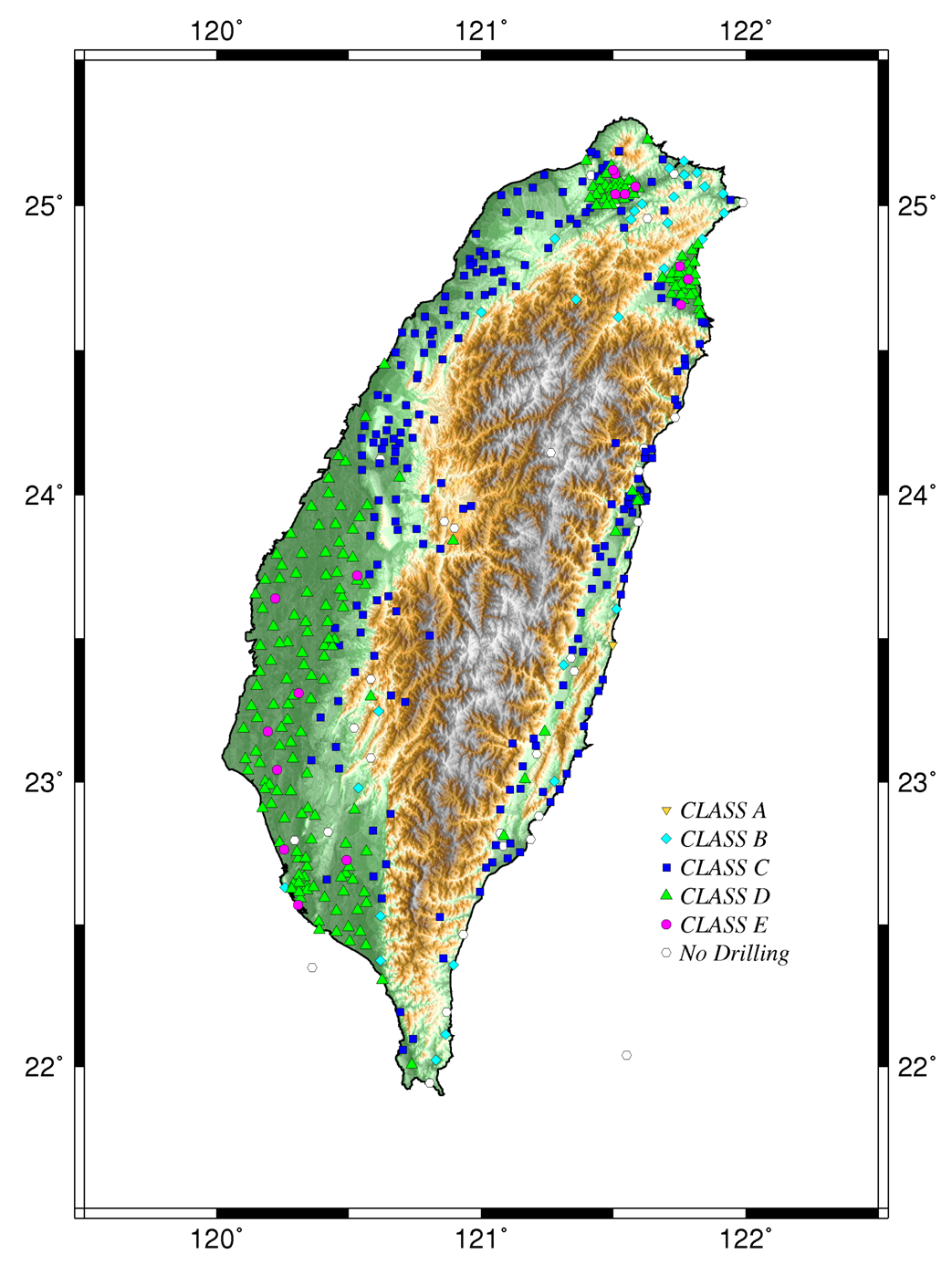 Fig. 1. The latest site classification.
Several researches adopted measured Vs30 at parts of the stations and then estimated Vs30 at other stations (Chiou et al., 2008; Lee and Tsai, 2008; Allen and Wald, 2009). We therefore compared the later measured Vs30 and the estimated Vs 30 in Fig. 2, which demonstrates the accuracy of estimated Vs30 by the three researches needs further advance.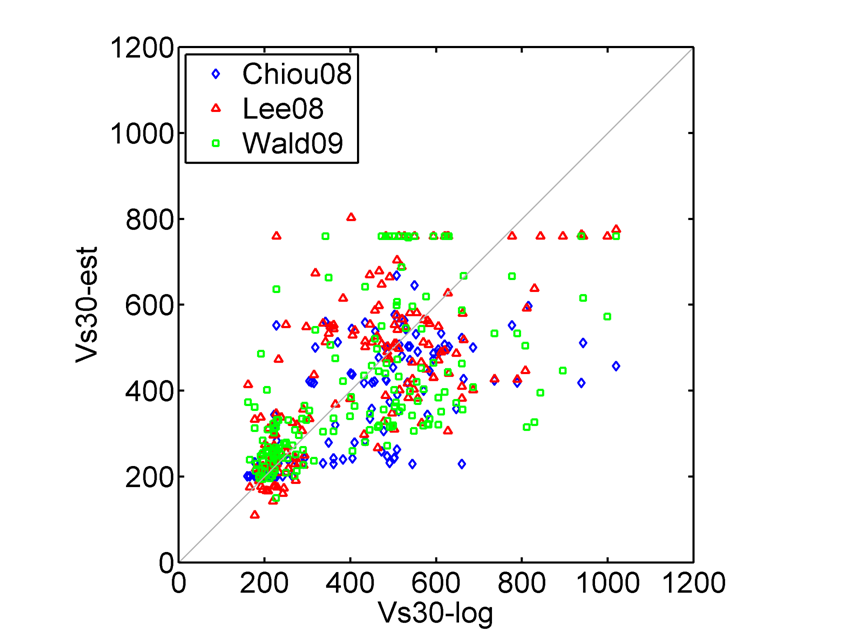 Fig. 2. (a) Estimated and logged Vs30 at stations.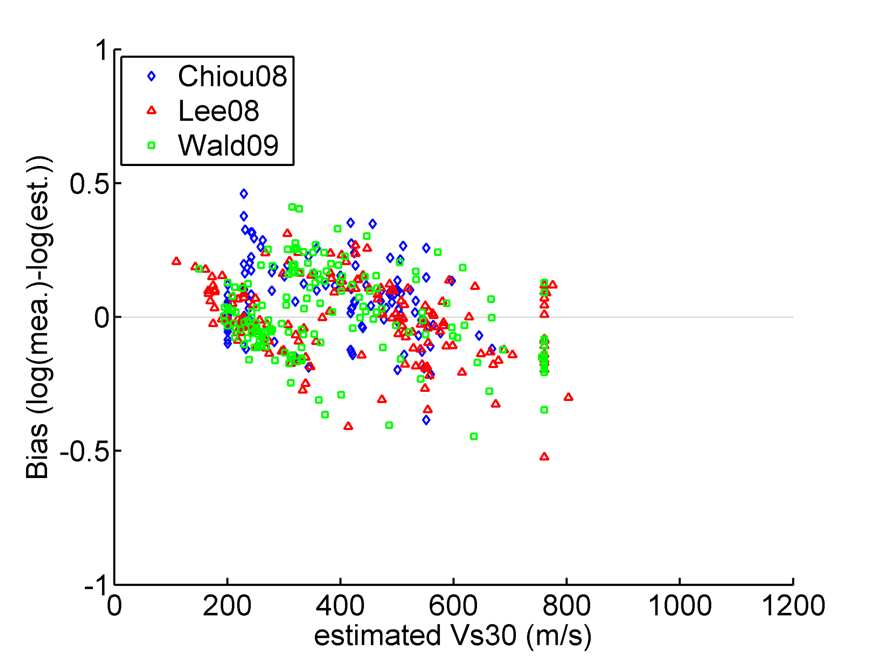 Fig. 2. (b) Bias of the estimated Vs30.
Related Researches
Kuo, C. H., K. L. Wen, H. H. Hsieh, T. M. Chang, C. M. Lin, and C. T. Chen (2011). Evaluating empirical regression equations for Vs and estimating Vs 30 in northeastern Taiwan . Soil Dynamics and Earthquake Engineering . 31 (3), 431-439. DOI: 10.1016/j.soildyn.2010.09.012
Kuo, C. H., K. L. Wen, H. H. Hsieh, C. M. Lin, and T. M. Chang (2011). Characteristics of Near-Surface S-wave Velocity. National Center for Research on Earthquake Engineering, NCREE-11-022, 82 pp. (In Chinese)
Kuo, C. H., K. L. Wen, H. H. Hsieh, C. M. Lin, T. M. Chang, and K. W. Kuo (2012). Site Classification and Vs30 estimation of free-field TSMIP stations using the logging data of EGDT. Engineering Geology . 129-130 , 68-75. DOI: 10.1016/j.enggeo.2012.01.013